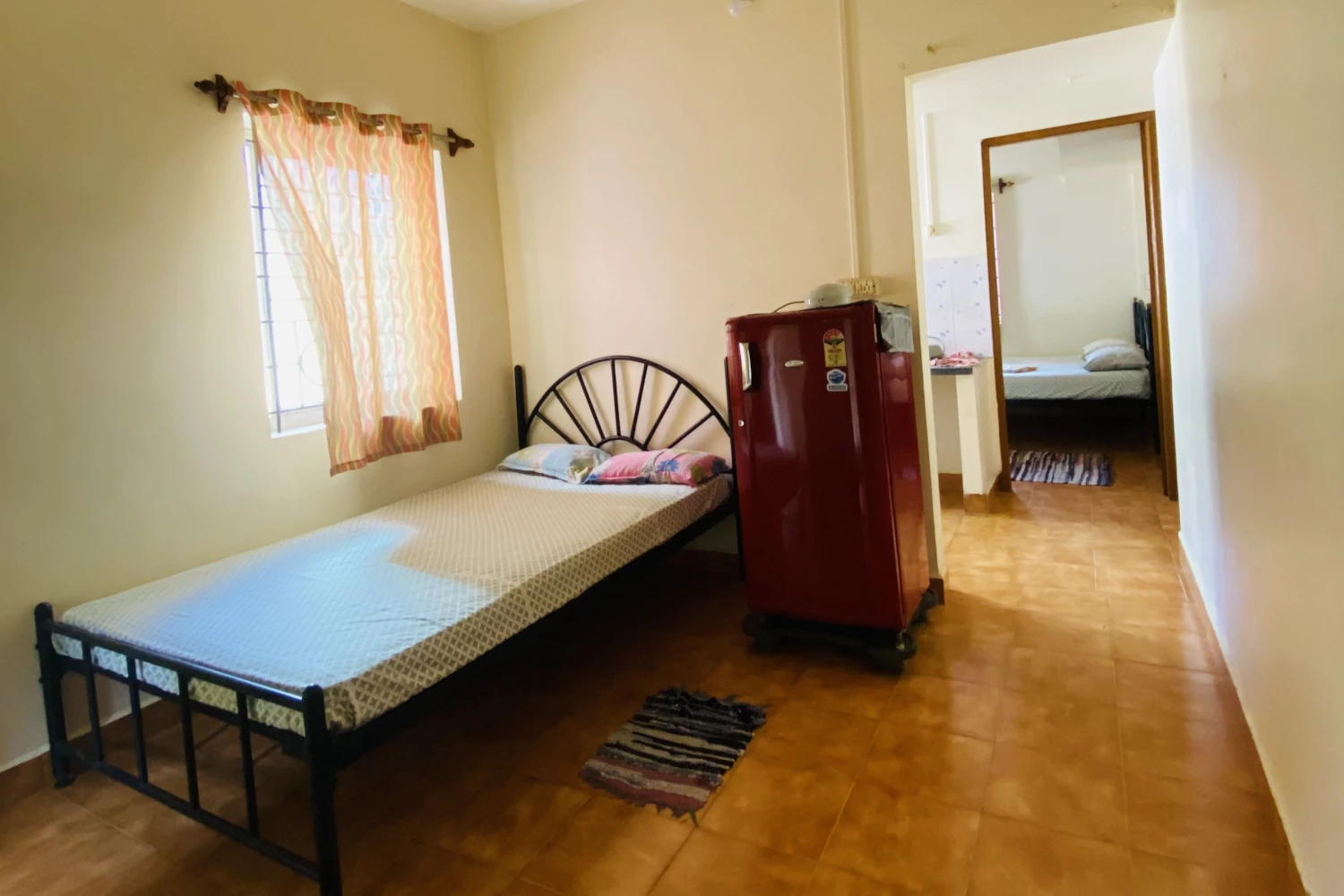 Occupancy: 2 Size: 35m2 &45m2
Our spacious apartment is the perfect vacation or weekend getaway accommodation, but it is also very suitable for a longer stay for couples or a family.
It has a private bedroom with balcony attached. It has a living room, a functionally equipped kitchen space with refrigerator. The bathroom with hot shower and toilet, a comfy chair & table where you can eat your breakfast or unwind with a sundowner drink in hand. This apartment is located on the first floor, which gives you a good view of the surrounding and you watch the world gently go by.
---
















---
Check-in: 14:00 & Check-out: 11:00
Original ID proofs to be submitted before checking in.
Full payments to be made at the time of checking in.
Must allow inspection of room before checking-out.
Any damage to the property is payable as per owner guidelines.
Though the premises are under CCTV surveillance, one must take care of their own belongings and property owner is not responsible for any loss.
Always ask for the payment receipt copy signed by manager after making payments.
Cancellation of bookings 7 days prior to arrival date is refundable up to 50%
No last-minute cancellations allowed, any such incidence should be sorted by guest on their own.
| SEASONS | OCT | NOV | DEC | JAN | FEB | MAR | APR | MAY | JUN-SEP |
| --- | --- | --- | --- | --- | --- | --- | --- | --- | --- |
| MONTHLY RATES | Rs.18000 | Rs.27000 | Rs.31500 | Rs.31500 | Rs.27000 | Rs.27000 | Rs.22500 | Rs.18000 | Rs.15000 |
1 BHK Apartment
| SEASONS | OCT | NOV | DEC | JAN | FEB | MAR | APR | MAY | JUN-SEP |
| --- | --- | --- | --- | --- | --- | --- | --- | --- | --- |
| MONTHLY RATES | Rs.24000 | Rs.36000 | Rs.42000 | Rs.42000 | Rs.36000 | Rs.36000 | Rs.30000 | Rs.24000 | Rs.22500 |
2 BHK Apartment
availability for single bedroom 1bhk appartment 312
availability for Double bedroom 2bhk appartment 313